Town hall tantrum fallout at CNN: anti-Trump media reporter Oliver Darcy just pulled the curtain back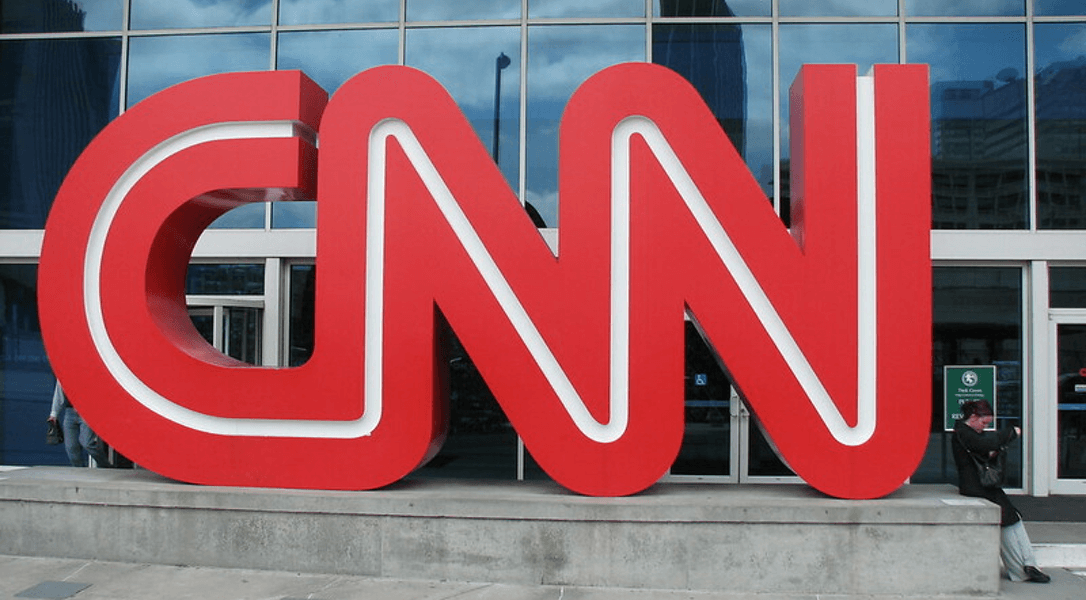 It appears CNN is attempting to alter its reputation as the Orange Man Bad network.
At least until the general election because a Trump media narrative shift just got exposed.
Now anti-Trump media reporter Oliver Darcy has pulled the curtain back on the Trump town hall tantrum fallout at CNN.
New CNN boss Chris Licht is in the process of changing the tenor of the network.
Disgraced former CNN chief Jeff Zucker intentionally directed the cable news channel to become adversarial and hostile to Donald Trump.
In reality, CNN has leaned Left for a long time, but they dropped every pretense of balanced coverage in the Trump years.
The attempt at ratings worked with Trump in office.
And it could work for them again if Trump becomes the 2024 Republican nominee.
Since Trump left office, a huge portion of CNN's rabidly anti-Trump core viewers have dropped off.
And even the dimmest of institutional media bosses knows their power has always hinged on their ability to keep up a facade of objectivity for the unwitting masses. 
So now Licht is attempting to repair the damage to the network's supposed objectivity.
The evidence suggests that could be why Licht was given a mandate by new Warner Media Discovery Chairman John Malone to rein in – at least for now – the runaway anti-Trump rhetoric on the network, and Licht made a move toward that goal by airing a town hall with Trump.
The town hall drew big ratings for the network, but CNN personalities were beside themselves.
Jake Tapper melted down after the town hall, and Anderson Cooper had the gall to tell his audience, "You have every right to be outraged today and angry and never watch this network again."
But CNN digital reporter Oliver Darcy was even more unhinged.
Darcy, who attempted to break into Republican Party politics before his hard left-ward pivot at CNN, slammed his own network in emotional online tweets.
And Licht was reportedly not happy.
Dylan Byers at left-leaning site Puck News reported that "Licht summoned Darcy and his editor Jon Passantino to a meeting with himself, CNN comms chief Kris Coratti, editorial executive vice president Virginia Moseley and senior vice president of global news Rachel Smolkin, in which they told him that his coverage had been too emotional and repeatedly stressed the importance of remaining dispassionate when covering the news, be it CNN or any other media organization."
Other stridently anti-Trump CNN hosts are gone—Brian Stelter and Don Lemon were both fired—so Darcy may not want to get over his skis.
Byers added that "Darcy stood by his work and pushed back on the 'emotional' characterization" but was alleged to have been "visibly shaken."
They "put the fear of God into him," Byers wrote.
If Darcy is unwilling to get on board Licht's program, he could be out the door like former boss Brian Stelter.
Darcy wrote on Twitter, "It's hard to see how America was served by the spectacle of lies that aired on CNN Wednesday evening…24 hours after CNN's town hall, it's all anyone is talking about. Throughout the day, we heard from dozens of network staffers — ranging in seniority and positions across the org — who all expressed dismay by what they saw transpire on their TV screens."
Darcy could be flirting with disaster.
Then again, it's hard to imagine public airing of these sorts of internal editorial disputes at CNN happens by accident.
From CNN's perspective, "platforming" Trump as a means to spark loud dissent from on-air personalities Jake Tapper, Anderson Cooper, and Oliver Darcy could be just the ticket to help them keep their anti-Trump core viewers engaged until the 2024 campaigns really get their blood boiling.
Pants on Fire News will keep you up-to-date on any developments to this ongoing story.
CNN got caught red-handed in the middle of a shameless propaganda tactic
The horrific war in Ukraine wages on.
And the corporate-controlled press continues to lie about what's happening.
And now CNN has been caught red-handed in the middle of a shameless propaganda tactic.
Russian President Vladimir Putin's illegal invasion of Ukraine has led to hundreds of thousands of deaths, hundreds of billions spent, and massive worldwide disruption.
But Joe Biden and the foreign policy establishment have recklessly prolonged the war instead of looking for an off-ramp.
There was one report that Putin and Ukrainian President Volodymyr Zelenskyy had reached a peace agreement, but former UK Prime Minister Boris Johnson, on behalf of NATO, pressured Zelenskyy to nix the deal.
The Military Industrial Complex wants another endless war, not a quick end, even though the strategic goal of crippling Russia's army has already been established.
And the corporate-controlled press is doing its part to prolong the fight with shameless war propaganda.
Instead of reporting on the reality that Ukraine is severely outmanned and is almost entirely reliant on Western funding and soft NATO support, the so-called mainstream media are presenting the fake narrative that the Russians are on the brink of losing outright.
The latest example came from CNN, which had an entire arc on the significance of the Ukrainian city of Bakhmut.
On October 20, 2022, CNN reported that the "significance of the city cannot be overstressed."
But on March 2, 2023, CNN reported that "Bakhmut's strategic importance should not be overstated."
Then on March 26, 2023, CNN reiterated that Bakhmut offered "limited strategic value."
Finally, on May 20th, 2023, after the Russians had taken the city, CNN reported that Bakhmut's "symbolism always outweighed its strategic importance."
CNN explains Bakhmut pic.twitter.com/7Zw40nAU2U

— Wyatt Reed (@wyattreed13) May 21, 2023
This type of absurd war propaganda is not helping Ukrainians, which are dying by the tens of thousands when a peace agreement could be reached.
Time to dust off the Ukraine cope chart pic.twitter.com/lbCkpsWMhN

— Wyatt Reed (@wyattreed13) May 20, 2023
The neocons would love regime change in Moscow, but they would settle for a protracted conflict that drags on for years.
And the so-called mainstream media are happy to oblige with helping along either.
The one time Biden got clocked really hard by the press was when he pulled out of Afghanistan.
Biden botched the withdrawal, but the fact that he agreed to pull out at all had the media up in arms.
Presidents are not allowed to end wars.
If Biden runs on an endless war in 2024, he will lose.
The American people have lost their appetite. 
Pants on Fire News will keep you up-to-date on any developments to this ongoing story.
CNN is in a world of hurt after airing Trump town hall
CNN positioned itself as the Orange Man Bad network.
Then the cable news outlet invited Donald Trump onto the air.
Now CNN is in a world of hurt after airing Trump's town hall.
Donald Trump gave CNN its best ratings in a long time when he appeared on the network for a town hall hosted by Kaitlan Collins.
CNN easily won the night with 3 million viewers, a rare victory for the network in the primetime slot.
However, the network is experiencing fallout since Trump's appearance on the network.
CNN has long been mired in third place in the cable news ratings behind Fox News and MSNBC, and they're trending in the wrong direction.
The week prior to Trump, CNN averaged 494,000 primetime viewers; after Trump, viewership fell to 400,000.
That represents a 23.5% drop in ratings, a huge blow for a network that is already a distant third place.
The likely reason for the sharp drop-off is that CNN conditioned its viewers to hate Trump and disdain anyone who gives him a platform, so it's no surprise CNN's well-trained viewers did what they were told.
It also can't have helped that CNN personalities trashed the network from inside the house.
After the town hall, Anderson Cooper said on his show,  "Many of you have expressed deep anger and disappointment. Many of you are upset that someone who attempted to destroy our democracy was invited to sit on a stage in front of a crowd of Republican voters to answer questions, and predictably, continued to spew lie after lie after lie…I get it. It was disturbing. It was disturbing to see and hear that person refer to a black law enforcement officer as a thug, an adjective he used many times to describe black men and called Kaitlan Collins, the moderator nasty, which is what he calls any woman who stands up to him…You have every right to be outraged today and angry and never watch this network again."
Oliver Darcy had such an emotional response to Trump's town hall that he was reportedly called into president Chris Licht's office and read the riot act.
As for Collins, she was announced as the permanent replacement for Chris Cuomo in primetime despite her lackluster performance as town hall moderator.
CNN likely knows they'll get those anti-Trump viewers back the closer he gets to winning the GOP primaries, as the Left grows more rabid heading into 2024.
Pants on Fire News will keep you up-to-date on any developments to this ongoing story.
Jake Tapper lost his mind when Elon Musk said one thing about George Soros
The so-called mainstream media defend George Soros to no end.
Criticizing him creates instant backlash.
And Jake Tapper lost his mind when Elon Musk said one thing about George Soros.
Billionaire globalist George Soros has become off-limits.
Simply mentioning his name elicits accusations of antisemitism, which is absurd.
The Left routinely attacked Republican billionaire donor Sheldon Adelson when he was alive.
Soros gets criticized because of his stated ambitions, which include undermining national sovereignty.
Twitter owner Elon Musk recently called out Soros by comparing him to Marvel comics supervillain Magneto.
Musk tweeted, "Soros reminds me of Magneto."
Soros reminds me of Magneto

— Elon Musk (@elonmusk) May 16, 2023
The make-believe character Magneto and Soros were both Holocaust survivors.
CNN's Jake Tapper was apparently triggered by Musk's tweet.
Tapper said on his show that Musk "launched a baseless twitter attack against George Soros, the progressive Jewish philanthropist, who has been the target of antisemitic conspiracy theories." 
This is absurd because Soros gets attacked for things that he actually says and does.
For instance, Soros bankrolls far-left District Attorneys that downgrade felonies, ignore misdemeanors, and release repeat criminals from prison early.
The pro-crime policies have unsurprisingly led to upticks in crime.
Even Fox News is wary of criticizing Soros.
Former Republican House Speaker Newt Gingrich was chastised on the air for mentioning Soros' funding of socialist DAs.
This is one of the weirdest exchanges I've ever seen on TV. @newtgingrich correctly points out that George Soros threw an unprecedented amount of money into DA races all over the country to elect radicals and Fox News basically told him to shut up. WTF? pic.twitter.com/IxwcLG2gOH

— Robby Starbuck (@robbystarbuck) September 16, 2020
Later in the CNN segment, Tapper said, "It's interesting, in terms of how Elon Musk has chosen to run the platform. He's constantly engaging with people who are bad faith actors, I mean, people who subscribe to QAnon, people who are white supremacists, people who are focused on black-and-white violence, I mean he's, people who criticize diversity in Hollywood casting, I mean these are choices he's making."
That is what passes for "objective" journalism at CNN, and Tapper is considered one of the network's less incendiary hosts.
It shouldn't come as a surprise that the media protects Soros because he's funding a lot of it.
According to an investigation from the Media Research Center, at least 54 prominent media figures are tied to Soros-funded organizations.
For example, leftist journalist Christiane Amanpour is a senior adviser for the Committee to Protect Journalists (CPJ), which received $2.75 million from Soros between 2018 and 2020 alone.
Soros scratches the media's back, and they scratch his.
*Pants on Fire News Official Polling*
.