Kamala Harris just got the most cringeworthy defense on MSNBC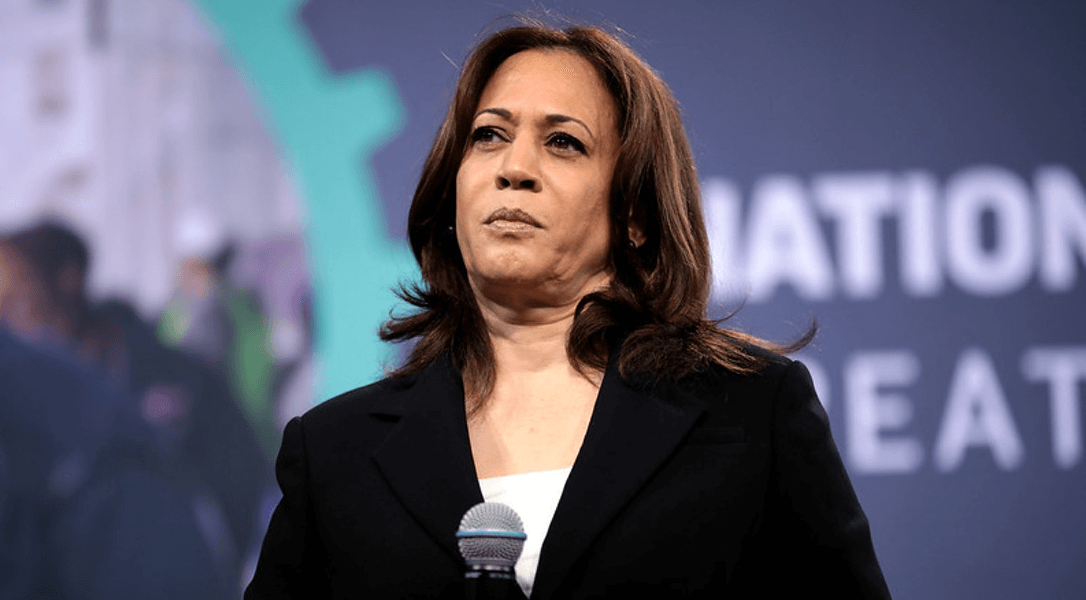 Democrats are leery of Joe Biden running again for President.
They might be even more leery of Kamala Harris being commander-in-chief.
But Harris just got the most cringeworthy defense on MSNBC.
The Democrats are talking out of both sides of their mouths.
They have been propping up Joe Biden while whispering about concerns over his age.
Even South Carolina Democrat Congressman James Clyburn said Biden would have to allay concerns about his health and mental faculties.
The same goes for Vice President Kamala Harris.
The mainstream media have been building her up as an impressive statesman, but the media have also been writing stories about her unusual staff turnover and shaky handling of various issues, such as the border crisis.
The self-proclaimed "objective journalists" seem to be hedging their bets in both directions. 
So MSNBC is attempting to shield Harris by suggesting that criticism of her is rooted in sexism.
During a segment with former Bush administration spokeswoman Nicolle Wallace, far-left political analyst Cornell Belcher ran interference for Harris.
He said, "Looking back at it, I don't remember Joe Biden being in the Obama re-elect launch video at all. I don't know if Dick Cheney made any of your guys' re-elect videos?"
Wallace answered, "I don't think so."
Belcher continued, "They leaned into that, and they tried to alleviate some of those concerns, which, by the way, I've been very vocal about calling it out. A lot of it is sexist, right? A lot of the attention and the questions that is asked of this vice president was never asked of Dick Cheney, was never asked of Al Gore. A woman with her résumé, you know, elected statewide to the one of the most biggest, most economically powerful states in our union coming up through those politics, elected to the senate, showed herself formidable in the senate and on the world stage sitting beside the guy doing the job, that woman is being questioned, her credentials are being questioned. No man with her résumé would have the same questions about their credentials, and we've just got to call it out as it is. It's sexist."
Belcher's analysis is asinine.
First, Bill Clinton, George W. Bush, and Barack Obama were all relatively young when they were in office.
Biden is older than all three of them and considerably older than they were when they were running for reelection.
Second, prominent Democrats like Senator Elizabeth Warren have been noncommittal about Harris on the ticket for 2024.
No one would accuse Senator Warren of being sexist.
As for her stint as a Senator, Harris won in California and didn't even face off against a Republican in the General Election.
Plus, she was endorsed by party bigwigs, including Barack Obama.
The idea that Harris had grassroots support in California is absurd.
Harris is a lightweight, and everybody knows it, which is why the media are working so hard to burnish her résumé.
Pants on Fire News will keep you up-to-date on any developments to this ongoing story.
Biden was finally called out by the Washington Post for one embarrassing failure
Joe Biden had a cakewalk to the White House.
The press treated him with kid gloves every step of the way.
But Biden was finally called out by the Washington Post for one embarrassing failure.
One of the jobs of being President of the United States is answering tough questions.
However, Joe Biden has completely shirked that responsibility as President.
Biden gives prepared remarks, then gets shuffled away by his handlers.
And Biden's lack of contact with the media is finally being noticed.
The Washington Post editorial board ripped the president for not answering questions.
The Post wrote an opinion piece titled, "Biden no longer does press conferences. That's not acceptable."
Donald Trump regularly answered biting questions from a contentious press gaggle, but Biden has not.
In fact, he recently made a joke about it at the White House Correspondents' Dinner.
Biden quipped, "In a lot of ways, this dinner sums up my first two years in office. I'll talk for ten minutes, take zero questions, and cheerfully walk away."
The crowd laughed, acknowledging that the so-called mainstream media are his lapdog.
But the Post finally seems to be fed up.
The editorial board wrote, "So far in 2023, Mr. Biden has done zero solo news conferences. He did conduct two 'joint news conferences' in which the president and a visiting foreign leader faced the media together. It should not take a visit from Canadian Prime Minister Justin Trudeau or South Korean President Yoon Suk Yeol for the American public to hear the president answering urgent questions from a free press."
The last time Biden did answer questions, he got caught with a cheat sheet featuring pre-screened questions from a Los Angeles Times reporter.
Biden's coziness with the press has been a joke, especially in contrast to the backyard brawls Trump had with media figures, both Left and Right.
The Post continued, "The president and his team promised transparency. Instead, he is stonewalling the media. It happened again on Monday. Mr. Biden appeared alongside Transportation Secretary Pete Buttigieg to brief reporters on new efforts to force airlines to compensate passengers when a flight is canceled. As soon as his remarks ended, Mr. Biden turned and walked off, ignoring questions from reporters…Taking questions from the media promotes public accountability. It also shows that the president is willing to defend his positions and instills confidence that he can do the job."
Biden's avoidance of the press, particularly a friendly press, does not instill confidence that he has the mental acuity to handle the job.
*Pants on Fire News Official Polling*
.
CNN just gave Joe Biden comically insane advice
Joe Biden's approval rating is in the toilet.
His agenda is wildly unpopular with the American people.
And CNN just gave Joe Biden comically insane advice.
Joe Biden portrayed himself as a moderate, but he has implemented some of the most radical policies ever seen in an American President.
The result has been a historically low approval rating at this point in a President's term.
And CNN's advice for Biden is to go even further Left. During a panel discussion, host Alisyn Camerota asked, "President Biden's latest approval ratings are weak as he launches his re-election campaign. That is especially true of one key constituency. Young progressive voters aged 18 to 29. Eva's been doing a lot of reporting on this. So, Eva, why are young progressive souring on the president?"
Political reporter Eva McKend suggested that Biden should focus on radical environmentalism, abortion, and transgender youth.
McKend said, "[W]e spoke to young activists across the country. And essentially, they feel as though they aren't being listened to or they are being engaged at the White House, but they describe these interactions as perfunctory. One of the key issues was this Alaska drilling project that the administration approved."
Attempting to win over young people, a demographic that is notorious for not voting, by tacking to the hard Left is insane, especially at the cost of moderates and independents who are looking for a reason to jump ship.
Camerota asked, "[I]f let's say it's a race between President Biden and President Trump, these young progressives are not going to vote for President Trump, right? So what…would they do, sit it out? Is that what they're saying?"
McKend responded, "Well, they could sit home, they could stay at home. And, you know, it is — I think that also we are sort of hearing that there is this skepticism about the effectiveness of the electoral process, right? I voted and I'm seeing the erosion of reproductive rights…[W]hen we talk about trans youth, these young people, if you are a young person in this country, you are more likely to know someone who is trans, have someone who is trans in your family. You're not talking about them in the abstract. And so, these very vicious attacks that we see on trans folks across the country, that is deeply personal to these voters. And so, they could be so outraged by that on the [Republican] side that it may prompt them to support President Biden and Democrats, but it might not be enough."
This is an insane strategy.
Radical gender ideology is not popular.
Shoving it down people's throats is not going to be a boon for Biden and the Democrats.
Pants on Fire News will keep you up-to-date on any developments to this ongoing story.
Breaking Hunter Biden probe developments have raised serious questions about a White House payback scheme
Joe Biden pledged to be transparent with the press.
On countless matters – especially those involving  his son Hunter – his administration has been the exact opposite.
Now breaking Hunter Biden probe developments have raised serious questions about a White House payback scheme.
The Left had a fit when Donald Trump called the fake news media "the enemy of the American people."
But those same offended journalists sit on their hands when journalists are actually being punished by the Biden administration.
New York Post reporter Steven Nelson has been reporting on Hunter Biden's sundry crimes in advance of a potential indictment, and the Biden administration mysteriously denied Nelson a press pass for an event.
The Post received a message from White House staff that read, "We are unable to accommodate your credential request to attend the Investing in Airline Accountability Remarks on 5/8. The remarks will be live-streamed and can be viewed at WH.gov. Thank you for understanding. We will let you know if a credential becomes available."
The only news outlet that was willing to cover the story was Fox News.
Bret Baier asked Fox News correspondent Jacqui Heinrich, "Jacqui, you know, tonight the New York Post is reporting that it was banned from the President's only event today as federal prosecutors we're told are nearing a decision on possibly charging Hunter Biden. Why the ban?"
She responded, "Well, that reporter who was not allowed into the event, Bret, often asks Hunter Biden questions. So one can really only guess. But this has been an ongoing issue with this press office limiting who can attend by issuing event credentials. Now, we can tell you that The Daily Caller was also initially denied a credential but they were allowed in eventually after their reporter pushed back and the White House overall has never explained why or how they determined who is and is not let into these things…" 
Such behavior does not speak well of the administration.
The Biden administration is also supposedly bringing back former Deputy White House Press Secretary TJ Ducklo.
Ducklo was ousted after he threatened reporter Tara Palmeri, who spilled the tea on his sexual relationship with Axios reporter Alexi McCammond.
Today News Africa's Simon Ateba has also found himself at odds with White House Press Secretary Karine Jean-Pierre for asking persistent questions.
So much for the Biden administration being transparent with the media.
Pants on Fire News will keep you up-to-date on any developments to this ongoing story.